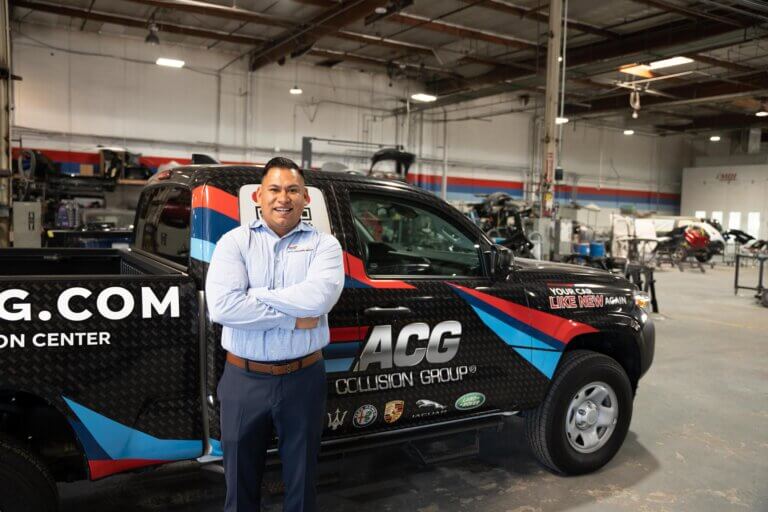 ---
SBA 504 Loan Helps Fuel Auto Collision Empire
October 4, 2023
Growing up the son of immigrants, Jorge Rico always understood hard work.
"We were extremely poor," Jorge recalled. "I saw my parents struggle and wanted to help."
At the same time, Jorge started to dream of opportunities for himself.
"I decided I never wanted to work for someone else," he said. "I wanted to be my own boss."
Motivated by his dream and driven by a solid work ethic, Jorge, as a young man, pursued opportunities in the auto collision repair industry and eventually acquired enough expertise to start his own business – Auto Collision Group (ACG) in 2017. Soon afterwards, he became convinced the key to steady growth was getting special certifications from high-end car manufacturers, including Tesla, Maserati, BMW and Jaguar, as well as from large-scale auto companies such as Ford, Nissan and Honda.
Jorge's investment in the training and tools to service these well-known brands – $200,000 alone for Tesla – fueled demand for work. Three months after opening his first shop, he opened another garage in Gardena, then another in South Los Angeles nine months later. Jorge's success has now snowballed into 10 locations, dotting the map from Orange County to Central California.
While successful, Jorge knew that he was still being held back by escalating rent costs – especially at his largest facility, a 27,000 square-foot building in Santa Ana.
So in 2022, he began entertaining the idea of buying the $11.5 million building. His banker, Jason DiLuigi of Commercial Bank of California, shared the advantages of the SBA 504 loan program which provides long-term, fixed-rate financing for commercial real estate purchases and tenant improvements. Jason also brought in commercial real estate brokers Dale Camera and Jason Helmick of Lee & Associates to assist with the purchase.
Building Ownership Avoids Rising Rent, Stabilizes Overhead
With Jorge's nod to pursue the SBA 504 option, Jason reached out to CDC Small Business Finance, a nonprofit Certified Development Company (CDC), part of the Momentus Capital branded family of organizations, dedicated to ensuring equitable access to capital. The SBA 504 program is unique in that it requires a partnership between a bank and a CDC and only asks the small business owner to chip in a 10 percent down-payment.
"I've worked with the people at CDC Small Business Finance on multiple loans; they are proactive and communicate well with my clients," said Jason, who partnered with CDC Senior Commercial Loan Officer Mark Hogan, a 26-year veteran of SBA 504 financing.
Mark was instrumental in overcoming an obstacle that briefly threatened to derail SBA's approval of the loan. The property adjacent to Jorge's had been flagged for possible groundwater contamination. But through diligent probing, Mark discovered that a remediation plan was already underway, which allayed the SBA's concerns. The loan was approved and Jorge now owns his building outright.
"At CDC Small Business Finance, we pride ourselves on being a partner for borrowers, bankers, and real estate brokers who will dig deeper to find solutions when challenges to securing the loan arise – challenges that might make other lenders give up," explained Mark. "Our goal is to provide entrepreneurs the capital and opportunities they deserve, and we go above and beyond to make that happen."
Jason added:"It was a delicate situation, but Mark handled it professionally, finding solutions, keeping the ball moving downfield and, along the way, informing everyone involved in the project."
Jorge remains grateful for the Commercial Bank-CDC partnership that helped him purchase his largest shop earlier this year. But he didn't allow himself to smell the roses of success for long. Rather, the young entrepreneur dived into new marketing investments that will attract new work and hopefully drive ACG sales upwards of $20 million this year.
"He's a classic rags-to-riches guy," Mark said of Jorge. "He has a brilliant business mind and the energy and tenacity to grow his small business into something even more lucrative."