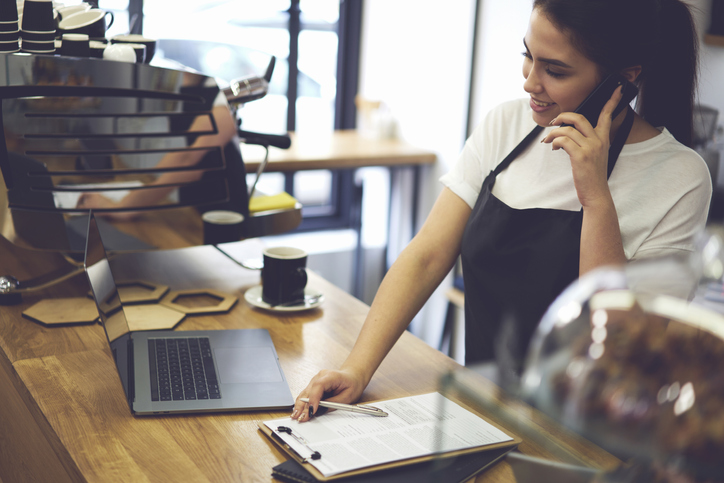 ---
How to Get Certified as a Woman-Owned Business
October 15, 2021
This blog post on women-owned business certification originally appeared on SmallBizDaily, a content partner and website dedicated to all things entrepreneurship and the world of small business. CDC Small Business Finance will routinely feature their content.
If you're a woman business owner, getting your company certified as a woman-owned business can help increase your company's visibility, opportunities and ability to win corporate or government contracts.
Here's what you need to know about women-owned business certification.
Types of Certification
There are two types of certification as a woman-owned business:

Women's Business Enterprise, or WBE: This designation is used by private sector organizations, as well as many state and local governments, looking for women-owned companies to do business with.
Women-Owned Small Business, or WOSB: This designation is used by federal government agencies looking for women-owned companies to do business with. Economically Disadvantaged Women-Owned Small Business, or EDWOSB, is a subcategory of WOSBs that meet the criterion for being economically disadvantaged.
Benefits of certification
Federal government agencies have targets to meet regarding the percentage of their contracts that are awarded to WOSBs or EDWOSBs; in certain industries where women are underrepresented, these agencies may also set aside a certain percentage of their contracts specifically for WOSBs or EDWOSBs. Many state and local governments, as well as private sector corporations, also have targets for using WBEs.
Related: How to Take Women-Owned Businesses to the Next Level
Private companies that do business with the federal government may be required by the government to contract with a certain percentage of women-owned businesses. Getting certification can give you an advantage against larger businesses when vying for these lucrative contracts.
Depending on what organization you use to certify your business, you can also benefit from networking events, educational opportunities and other helpful tools for business owners.
For example, if you certify your business through the Women's Business Enterprise National Council, or WBENC, you can participate in matchmaking events with WBENC's corporate members, educational and mentoring opportunities, and formal and informal networking opportunities.
Related: 3 challenges for female business owners and to fix them
Do you already work with corporate or government clients? Certification as a woman-owned business could open up even more opportunities with those companies.
How to Get Certified
You can self-certify your business as a WOSB or EDWOSB through the U.S. Small Business Administration, or SBA. Just register with the System for Award Management as such and provide the required documents to Certify.SBA.gov.
However, self-certification isn't your best option. Why? Technically, The National Defense Authorization Act for Fiscal Year 2016 eliminated the self-certification process. Since the SBA hasn't yet decided how to implement the change, self-certification is still an option. However, at some point, the process will be eliminated — and even if you do self-certify and win a contract, the contracting agency could ask for additional proof of your status and rescind the contract if you can't provide it.
Instead of self-certifying, a better bet is to go through one of the four authorized third-party organizations that provide WOSB and EDWOSB certification (all of them also provide WBE certification):

General criteria for certification
Each organization has specific guidelines depending on what type of certification you're seeking. In general, however, you'll need to meet the following criteria:

A for-profit business

A small business as defined by SBA (may vary by NAICS code)

At least 51% owned and controlled by one or more women

Women must be U.S. citizens or "legal resident aliens"

A woman must oversee daily operations during normal business hours
The basic process for certification involves completing an application, providing documentation about your business (this varies depending on your legal form of business), and having the certifying organization visit your place of business. You'll also pay a nonrefundable application fee.
It's a complicated process, but certifying organizations provide detailed directions to help you.
What to Expect
Make sure your application and documentation are complete when you turn them in. It typically takes a minimum of three months for your application to be processed, and if anything is missing or inaccurate, you'll delay the process even more.
Once you've been certified, your certification is good for one year. You'll have to reapply for recertification every year thereafter. (Fortunately, it's not nearly as complicated as the initial application.)
---