---
8 Small Business Resources Designed for Veterans
Small business
Veteran Business Loan
November 2, 2021
Veterans are a powerful and successful community that make up a significant part of the nation's small business landscape. More than 2.4 million Veterans return to their communities after their service and decide to apply their hard-won skills to establishing their own businesses.
Small Business Resources for Veterans

What Qualifies as a Veteran-Owned Small Business

Veteran Small Business Success Stories
Military training gives Veterans an advantage as they learn quickly to adapt to new and changing conditions and to do so under pressure. The experience hones important leadership qualities that are associated with successful entrepreneurs.
We are grateful to our Veterans, not only for their service but also for their unique contributions as small business owners. We also want to thank the network of organizations that have united to increase business opportunities for Veterans. There are a variety of organizations committed to helping Veterans advance as small business owners.  
Our list of 8 small business resources offers tools and mentoring for Veteran entrepreneurs at any stage of business. The programs are open to those who have small businesses or are ready to explore taking the first steps to launch one.

8 Small Business Resources for Veterans

1. Veteran Business Outreach Centers
The Small Business Administration (SBA) provides assistance to Veterans in their local communities through Veteran Business Outreach Centers. These centers specialize in providing small business resources for veterans who are looking to grow or start a business. Find entrepreneurial development services such as business training, counseling and resource partner referrals. You can also use the search tool to access resources like business training, counseling and mentoring, in your local communities.
Boots to Business is an entrepreneurial educational program offered by the SBA (Small Business Administration) for transitioning service members and their spouses. It is a two-step training program that includes a two-day classroom course and an eight week online course.  The course provides an overview of entrepreneurship and applicable business ownership fundamentals. This Veteran resource will help you and your spouse understand business ownership and forming a business plan.

3. The U.S. Department of Veteran Affairs 
The Department of Veteran Affairs (VA) is a great place for veterans to receive small business resources. Their Veteran Entrepreneur Portal (VEP) quickly connects Veteran entrepreneurs to relevant tips and best practices for small businesses. The VEP makes it easier for small businesses to access federal services, regardless of its source—and quickly connects Veteran entrepreneurs to relevant 'best-practices' and information.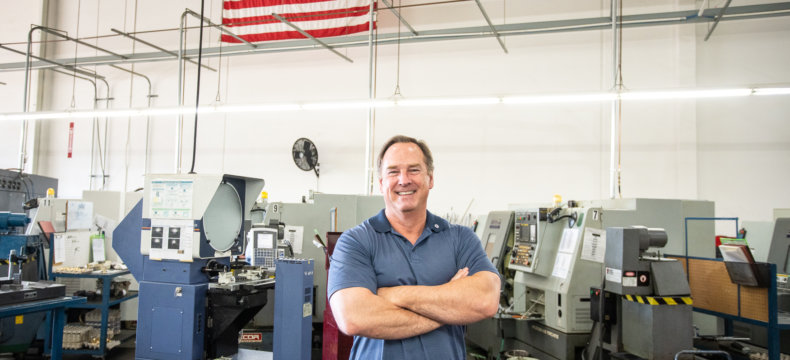 "If you can get into a 504 and buy your building … now you're investing in your own asset."
Chris Kuran, President, Waterstone Faucets
Bunker Labs helps connect small business Veterans to the resources that will help them grow their companies. When you join, you become part of an active community of military-connected entrepreneurs and small business owners that will help you launch, grow, and scale your business. They offer "Launch Lab Online," a four-part course in entrepreneurship that gives Veterans the tools you need to make your idea a reality.
Veteran Women Igniting the Spirit of Entrepreneurship (V-WISE) is a training program that helps women veterans and female military spouses/partners find their passion and learn the business savvy skills to turn an idea into reality. V-WISE is funded in part by the SBA and the generous philanthropic support of corporate and foundation partners nationwide. Their program includes three phases of a 15-day online course, a three-day in-person training event, and ongoing support focused on small business creation and growth.
The Veteran and Military Business Owners Association (VAMBOA) is a non-profit Veteran business trade association that promotes and assists Veteran Business Owners, Service Disabled Veteran Owned Businesses (SDVOB) and Military Business Owners. They focus on being a large hub of free small business resources for Veterans. VAMBOA provides resources ranging from business coaching on finance, mentorship, guidance on government contracts, events and more. 
The Rosie Network was created by Veterans and military spouses who've achieved success as entrepreneurs, the network's services include matching mentors with those interested in becoming small business owners. Their mentorship program is free and can help regardless of where you are in your entrepreneurial journey or the type of business you are looking to scale. 

8. Veteran Business Project 
The Veteran Business Project focuses on linking entrepreneurial veterans and their spouses with owners of existing small businesses who want to sell. They maintain a list of available businesses, along with free success support for veterans.

What Qualifies as a Verteran-Owned Small Business?

According to the Small Business Administration (SBA), to be considered a Veteran-owned small business in the United States you must meet the SBA requirements and be at least 51% owned, operated and controlled by a
Veteran.
To secure federal contracts you can apply for a Veteran-owned business designation by filling out a Department of Defense Form 214 (DD 214). This proves you have retired, separated or been discharged from active duty. You can then submit a verification application to the Department of Veterans Affairs.
Some Veteran-owned small businesses can qualify for the Service-Disabled Veteran-Owned Small Business program. The federal government has set a goal to award at least 3% of all federal contracts to service-disabled Veteran-owned small businesses. To earn this designation, a service-disabled Veteran must be in charge of the workflow of the business. Having a service-connected disability means a Veteran's medical condition was caused by active duty work. 

Veteran Small Business Success Stories

Below you will find Veteran small business owner success stories. Take a moment to learn about their journey and see how CDC Small Business Finance helped them get the financing they needed for their business.
Through an SBA 504 loan with CDC Small Business Finance, MachineTek owner Kevin Darroch worked with loan officer Merri Adams to buy a building at a low rate and secure long-term stability.
Through an SBA 504 loan, CDC helped JXR Constructors go from renting to owning a commercial property. Learn how this helped free up money to keep the business growing.
CDC Small Business Finance was able to provide Global Net Associates owner, Orlando Tagaloguin, a small business loan after being referred to us by a bank. Our small business advisors also guided ORlando along the way providing advice and insight.