---
SBA Community Advantage Loan
June 24, 2021
Looking to get a working capital small business loan? If you're not aware, the SBA Community Advantage loan is a smart, affordable, and responsible financing option designed to help small business owners at any stage of their business. 
Take a moment to learn about the SBA Community Advantage loan and the steps to apply.
What is an SBA Community Advantage Loan?

The Community Advantage loan and is an excellent working capital loan choice for new and existing businesses that need up to $250,000 in financing.
The SBA Community Advantage loan is offered by mission-based lenders, which are primarily nonprofits, focused on economic development and creating access to capital for small business owners.
---
"The Community Advantage Loan Program is key to allow mission-based lenders to think outside the credit box, offer loans to small businesses who haven't been able to get traditional bank financing, and secure the SBA guarantee to allow them to take a higher risk. The program has helped entrepreneurs across the country start new businesses, secure financing based on projections, and receive much needed technical assistance to grow their business." – Susan Lamping, VP Sales
---
How to get an SBA Community Advantage loan
If you think the SBA Community Advantage loan might be a fit for your small business, the next step is learning how to apply. The first step to completing an SBA loan application is finding the right Community Advantage lender to work with. You can use the search tool on the SBA's website to browse SBA lenders in your area.
When applying, make sure to provide all documentation that the lender requires to speed up your application process.
The application process is different for every lender. However, if you choose to work with CDC Small Business finance, the loan process is just 3 easy steps:
Get Prequalified: Provide basic financials and hear back in 3 business days
Get Approved: Typically takes 2-4 weeks after receipt of requested documents
Get Funded: Work with your loan manager to finalize, and then, You're Funded!
How to use the SBA Community Advantage Loan
There are several ways that you can use your Community Advantage loan to help your small business. Here's a list of uses for your financing:
Buy a business

Start a business

Expand your business

Buy equipment

Hire employees

Purchase inventory

Buy supplies

Consolidate debt
Cover payroll

Increase marketing

Relocate

Optimize cash flow

Improve your building

Make lease payments

Pay off a loan
Work with CDC Small Business Finance to get an SBA Community Advantage Loan
CDC Small Business Finance is the leading SBA Community Advantage lender in the nation.  Year after year we help small business owners get the financing they need to support their business dreams. As a mission based lender we are more flexible than a bank and have provided loans to more than 12,000 borrowers and counting.
One differentiator of working with CDC Small Business Finance is that we focus on your whole story, not just the numbers. We don't say no, we say "tell me more." We take that extra step to learn about you and your business so we can find you the financing that best matches your goals. We provide a suite of small business loan products, including the SBA Community Advantage loan, throughout California, Arizona, Nevada, Detroit, MI or Washington, D.C. Metro.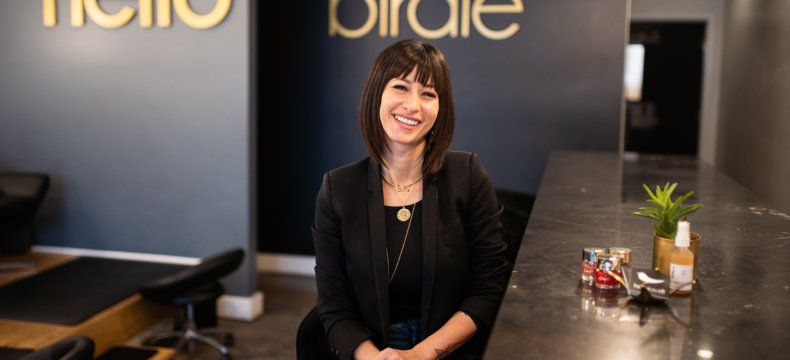 "I got a lot of support along the way and a lot of questions answered. I wasn't wondering what was next, it was very planned out and easy and amazing, amazingly helpful."
Cindy Cate, Hello Birdie Nail & Lash Lab
CDC Small Business Finance takes pride in being your partner throughout the loan process and beyond. Our loan officers will work with you directly and are available to answer questions, explain the process and help ensure you get a loan that best supports your business goals. Click here to learn more about our loan officers.  Check out our FAQ page to see the answers to the most commonly asked questions.
Click Here To Prequalify Today!
Industry Specialists
CDC Small Business Finance understands the importance of working with someone who understands your industry to help you get the right financing. Our loan officers are experts and help entrepreneurs in every industry from restaurants to automotive to salons to medical and much more. Here are a few highlighted industries that have dedicated experts:
Home Health Care Loan:

Work with a Home Health Care loan specialist who understands the specific needs of your industry.

Learn more.

Child Care and Preschool Loan:

Our experts are well versed in the needs of small business owners in the child care industry.

Get the details

.
SBA Community Advantage Program Guidelines when working with CDC Small Business Finance:
 Loan Amount: $20,000 – $250,000

Terms: 7-10 years for working capital, inventory, business acquisitions, tenant improvements, and start-up expenses

Terms: 25 years for real estate

Interest Rate: Prime + (2.75% to 6%), variable rate
Available for start-up and existing businesses 

SBA guarantee allows us to provide financing at a competitive rate 

Affordable capital compared to other nontraditional loans 

Funds can be used for working capital, operating expenses, tenant improvements, equipment, business acquisition, and refinancing of business debt 

Complimentary business counseling 

No prepayment penalties if real estate not involved
Credit: Must have a reasonable personal credit score and an acceptable explanation for any derogatory marks for principal borrowers.

Capital investment: startups 20%, business acquisitions 10% 

Show sufficient cash flow to make payments 

Projections reviewed for businesses affected by COVID-19 

Flexibility to waive some requirements for businesses in low-moderate income communities and veteran owned businesses
California, Arizona, Nevada, Detroit, MI or Washington, D.C. Metro